Grand Central Terminal
It has been a week since we came back from our trip to New York City. I thought about writing a day-by-day account of our adventures in The Big Apple, but I think the Twitter postings during our trip suffice.
What I will do is point out some highs, and a few lows, on the trip.
Getting Around
Best Experience: Virgin America and walking.  As expected, Virgin America provided an enjoyable airline experience.  The plane is new and comfortable, and you have slight legroom.  You get as many free drinks as you want, but no free food.
You are going to walk if you are in New York City.  You'd be surprised how far your feet can carry you in the city.  So bring a good pair of shoes, and prepare for a few blisters.
That's one big M&M
Fine Experience: The Subway.  Not as clean and easy to navigate at The Tube, but once we figured out where we wanted to go, the Subway was the best method to get there.
OK Experience: Taxicabs. The only time we took a cab was from JFK to Manhattan and back.  It was a $60 investment each way (including toll and tip).  Nice to know the cost upfront, but it seems a bit steep.  I'm not sure how much it would be if it were not a flat rate (of $45).
Eating
Best: Gray's Papaya.  An amazing birthday dinner experience to have two dogs with onions and drink, only for $3.50!  Also, Katz's Delicatessen provided an amazing dining experience. If you want a corned beef or pastrami sandwich, you better stop by Katz's in the Lower East Side.
Katz!!! Yum!!!
Fine: The Red Flame. A decent place to grab a quick breakfast.  It was convenient, located just down the street from our hotel.  They get you in and out as fast as possible.  Cafe Habana is a very crowded place in Little Italy.  Try the Cuban sandwich and the corn.  Yum.
Bad: Maxie's Delicatessen.  Overpriced awful food.  Also, how can you not make a good cup of coffee?
The Sights
It's the Brooklyn Bridge!
Best:  There are so many things to see in New York City.  What still stands out in my mind are the Brooklyn Bridge, the Metropolitan Museum of Art, and Grand Central Terminal.  I love Grand Central Terminal.  The first time seeing it, and having breakfast downstairs on a subsequent morning, will not leave my memory any time soon.  Times Square is amazing, the first time you experience it, both day and night.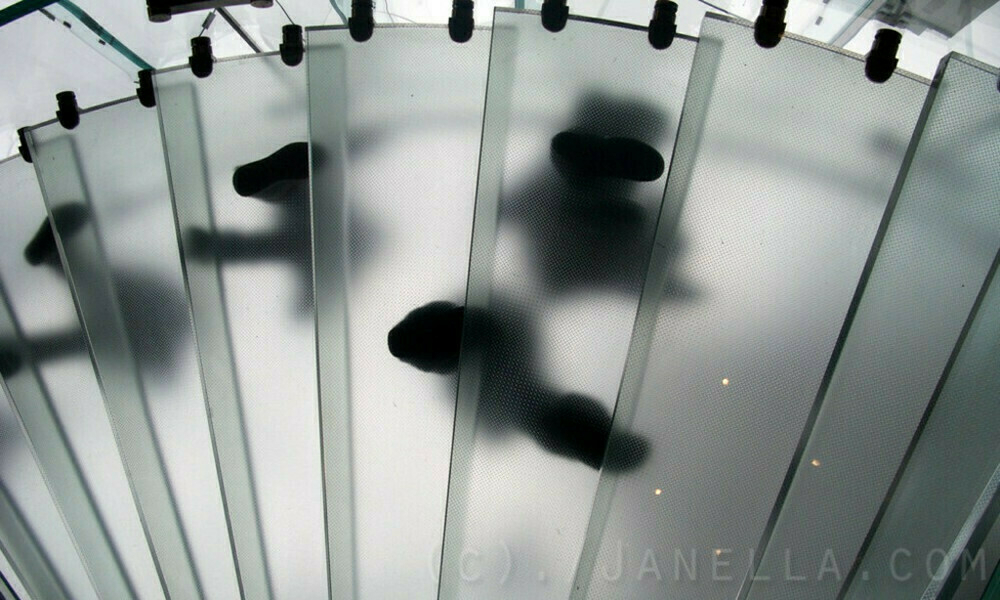 Walking down the spiral staircase at the Apple Store.
Fine: Top of the Rock, the NBC Studio tour, the Apple Store on 5th Avenue, and SoHo in general.
From the Top of the Rock
Bad: The third time going through Times Square.  All the people just started getting on my nerves.
Other Things to Note
We also saw Young Frankenstein, our first Broadway play.  The play was funny and entertaining even though Megan Mullally wasn't performing that evening.
The Sofitel was the hotel we stayed at in Manhattan.  Very nice hotel, with a pleasant room and splendid staff. If we were to go back to New York City and wanted to stay in Midtown again, I would want to stay here again.
Overall, the New York City experience was a great experience.  A big thank you to my beautiful wife for giving me a fantastic birthday present, and memories we can share the rest of our lives.
[Note: For photos of our trip to NYC, please see the Photographs section.]