Beginning in July, California went 'handsfree'.  Now, I don't talk on my cellphone often while driving but Farrah does. And so I did some research on a solution that would work for her.
The iPhone comes with a nice standard headset for listening to music and taking phone calls.  It can be used in the car as long as you only use one earbud while driving. I do this often, but it can be uncomfortable, and I think Farrah finds this so as well. Farrah also finds Bluetooth headsets uncomfortable. 
I heard Leo Laporte speak of the BlueAnt's Supertooth Light Bluetooth Handsfree Speakerphone as a good solution, and so I ordered it from Amazon and let Farrah give it a try.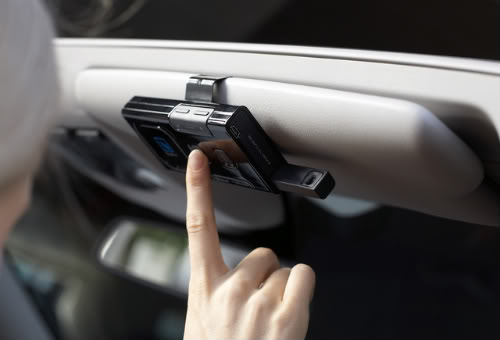 The unit charged quickly, with Farrah being able to try it the next day.  The main unit attaches by magnets to a metal clip you can fit into your car's visor.  Having the clip allows you to easily move the unit from car to car, or simply detach it from the clip to hide the unit in your glovebox.  To activate the unit, you extend the mic boom.
The sound quality is very good.  I was able to hear Farrah very clearly while she was driving, and she was able to hear me without my yelling.  The unit also comes with a built-in ringer so you won't have to hear your cellphone ringing unless you have the BlueAnt turned off.  The BlueAnt holds a very good charge.  We've only had to charge it twice since having it, but people who talk often may have a different experience. The only negative experience we've had with the unit is when pairing it with two different phones. The unit appears to forget the first phone it was paired with, but works fine with the ethe second. If you are the only one using the BlueAnt, then this will not be a problem. Overall, Farrah finds the BlueAnt solid and reliable, as do I.
There is a newer unit available, the BlueAnt Supertooth 3.  I think this unit has a voice-activated calling, but I have no personal experience with it.  You may want to read the reviews on that unit, but it does cost about $30 more.