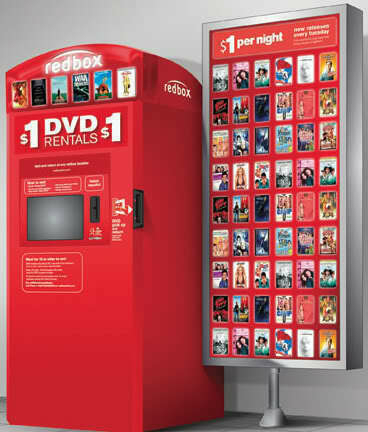 Hello Red. What are you doing here?
You may have seen Redbox in your local grocery store, Wal-Mart, or even your local McDonald's. It's a DVD rental machine. You get a DVD for $1 dollar for one day. Not a bad deal considering your other brick-and-mortar options (e.g. Blockbuster). I went to their website to see what movies they had to offer.
The site is easy to use. After creating an account, you can access their DVD catalog. Registering only requires an email address. Search is easily done by movie title, release date, category, or even by the Redbox closest to you. I was disappointed by the number of titles offered. I wanted to watch The Reader, since it is listed as Long Wait in my Netflix queue, but Redbox doesn't offer this movie.
When you find a movie you want to rent, you can reserve it online with a credit card. The DVD is reserved for about 24 hours. If you don't pick up the DVD, it will be released for rental and you'll still be charged. After reserving, go to the machine's location (listed on the site), and swipe the credit card you used on the website. The DVD will pop out encased in a firm plastic case. It's that simple.
It appears Redbox may start offering Blu-ray titles, but there doesn't appear to be a start date for this. If they offer Blu-ray and a broader selection of DVD titles, it could prove to be a successful alternative to my Netflix habit. If they continue to only offer limited titles, they may not make a significant dent in my rental habits.